Jake Blauvelt is all over the Internet. With help from Friday Productions, Blauvelt has been releasing a ton of footage on the web for a couple seasons now, most notably with his 2011 web-series project "Jake Blauvelt: Naturally."
After his end-of-series full-part dropped last fall, however, the online Blauvelt feed went a little quiet. Now, with the release of the halfway-mark teaser for his new two-year movie project "Naturally," we see why.
This "Naturally" go-round will be a lot like the last: Blauvelt will be riding with his homies at a bunch of exotic locales, in all the best conditions, and it all will be documented with the best cameras (Cineflex and RED) and by some of the best cameramen around (Gabe Langlois of Brain Farm and Greg Martin of Friday Productions). What makes it different is the order that things will be released. First, there will be a movie, and the behind-the-scenes webisodes will follow.
It's Blauvelt's biggest project yet. We rang him up to ask a little more about how he assembled the perfect shred crew and what it's like to embrace the web-based movie model.
ESPN.com: This new flick has a pretty stacked cast. John and Eric Jackson, Kazu Kokubo and Terje Haakonsen? Seems perfect.
Jake Blauvelt: For sure. You're never really sure who you'll be able to secure, because everyone's got their other sponsor obligations and what not, but it's unbelievable to have all those guys filming for the movie. It's a dream come true.
Does it trip you out to be filming with Terje?
Oh, yeah. And it's funny — you know normally whenever I ride with Terje, we always just go heli in the Whistler area. That's been the past four years now, so now it's kinda, like, "normal." [Laughs] But then it isn't normal at all. It's a trip.
"Getting up to a higher snowboard level … you want to live that snowboarder dream of party all night and then wake up early and go shred pow. And maybe some people can do that, but in listening to my body, I've realized I can't. What you put into your body helps you to shred harder, it really does."
It's just so cool how you can learn something new from him every time. Just the way he approaches the mountain, the boards he's riding. He's always tweaking stuff, like bindings, boots, boards. He's always on the phone with JG and Doyle at Burton working on stuff, which is really cool to see. You just kind of sit back and observe when you're around him, see what he does, because the way that he does it is the right way.
Looks like you got around last winter. Is there a single moment of the season that's really burned into you brain as "the best"?
Japan was really fun with E-Jack, just cruising. I've been to Japan the last three years riding pow and this year it was just crazy amounts. Every day it'd just stack back up. And it's not really stressful down there. It's pretty low impact and there's always so much powder. That was a really memorable trip — lots of hot springs and good food and good riding.
And then Last Frontier Heli — up in northern British Columbia, right next to the Alaskan border — was another amazing trip. We didn't hit the snow very good, but just to see the terrain up there was really eye-opening. We've already got our spot reserved to go back this winter. We'll go a little further out, to see what it really has to offer. I think we just saw the tip of the iceberg up there.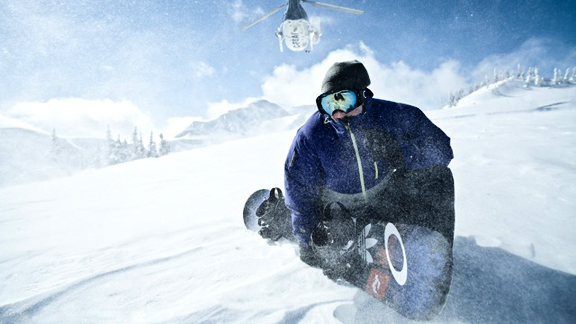 Photo: Scott Serfas Whatever Jake Blauvelt just got dropped off on top of here probably doesn't suck.
You've embraced the web-based video approach, while a lot of riders are still hesitant about it. What swayed you? Do you think web-releases can drop with the same weight as a full-part — say an opener or an ender — in a DVD?
I don't know … I was skeptical at first about dedicating a whole season to the web. Sometimes it just seems so disposable, unlike a hard-copy DVD. But, Greg Martin, who I work with, is real up to date with all that, and I think it really just has to do with the partnership you have. We had one with TransWorld and they promoted it really heavily. So I think as long as you've got a good partnership for your webisodes, that's key.
And then, also … how do I word it … Making sure it's not super-diluted. I think maybe if everyone was doing web-based content then it might get diluted, but I guess I thought [in 2011] that not many people were, so it was a way for me to break out of the mold and stand out.
But at the same time now I'm kind of over that. I felt like I was almost too much in the spotlight, just putting out content here and there, and it wasn't all super A-grade. So now I just want to kind of go off the radar and only put out A-grade footage.
I think it's just about doing a little bit of each. No way is right or wrong — it's just finding a good balance with both.
And you've decided not to have any energy drink sponsors involved.
I guess the reason for that is pretty straight forward. What the energy drinks do for their riders is awesome, in a sense, because they give them the money to go pursue their dreams — like Travis [Rice] with his movies and contests. But I felt like we had plenty of budget between the sponsors so we didn't need to go and grab money from an energy drink, which I don't really believe in or feel comfortable promoting. It's not healthy for kids, or anyone really. None of those guys [sponsored riders] really drink that stuff.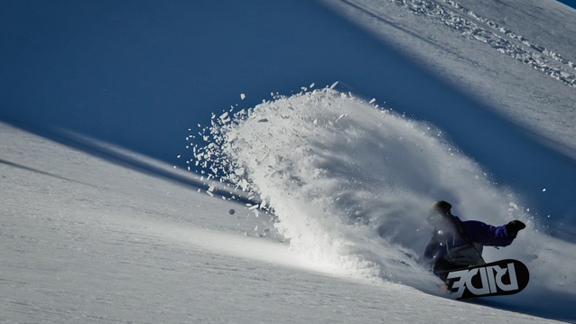 Photo: Scott Serfas – Just a mellow pow slash from one of the mellowest guys in snowboarding.
For me it's mainly just water, maybe a little coconut water. So it would be kinda like this false advertisement. But I can see why people do it, and I don't blame them for doing it. It's just staying true to what everyone in the "Naturally" project believes in.
You're clearly health-conscious. You're good about what you eat, you do yoga. Is this your Vermont upbringing or is it because your riding demands it?
I was lucky enough to grow up in the woods in Vermont and my family, especially my mom, was a super health nut, eating out of the garden all summer, and always planting stuff for the winter. So that was just my way of life, and I feel fortunate enough to be raised like that. I think that helped me.
And then, getting up to a higher snowboard level, it's like … you want to live that snowboarder dream of party all night and then wake up early and go shred pow. And maybe some people can do that, but in listening to my body, I've realized I can't. I can't drink a bunch of beer and then go ride the way I want the next day.
It's also, seeing guys that I look up to … I never met Craig [Kelly], but seeing his documentary and talking to Terje about him, about how he lived — and seeing how Terje lives, Nicolas [Müller], Gigi [Rüf] and Travis [Rice] are all the same way. All those guys are really health conscious and it really shows in their riding.
What you put into your body helps you to shred harder, it really does. So, yeah, it was seeing how those guys have done it, and then that paired together with how I was raised. It just seems like the natural way to do it.